Vintage motorcycle parts and service
Job Cycle provides high-quality service and repair for vintage British, American, Japanese, and European motorcycles. We also carry a large supply of new and used parts for British motorcycles. We care about your classic motorcycle and the time, effort, and resources you've put into it. Over the last 25 years Job Cycle has bought out numerous dealer inventories which included thousands of NOS parts for Triumph, BSA and Norton. We have a large inventory of speedometers, used gas tanks, both new and used wheel rims, NOS and rebuilt speedometers and tachometers, as well as an extensive NOS inventory of Lucas components. Below are some of the services we offer. Call for more info and pricing.
Engine and Transmission Rebuilding
Case-up complete rebuilding of all American, British, Japanese, and european motorcycle engines and transmissions.

Valve jobs, Cylinder boring and sleeving, performance enhancements.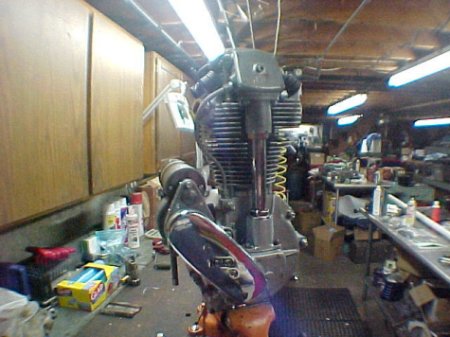 Custom Remanufacturing and Machining
Precision parts fabrication.
One-off and reproduction parts.
Professional Welding Services.
Custom Remanufacturing and Machining
Painting, Chroming, Cad-plating, Powder-Coating.
Custom Engine Coatings such as moly-coating, and ceramics.

Click the image below to view our photo gallery
Contact
86 Boston Turnpike (RT44)
Willington, CT 06279 phone: 860-848-0607 fax: 860-487-9916 info@jobcycle.com
Parts
NOS (new old stock) Used Original (used but not reproductions) Reproduction
Literature
Manuals
Magazines
Catalogs
Brochures
Posters
Memorabilia
Featured in...
Walneck's Magazine, "Biker of the Month" June 2007

MotoEuro Magazine Winter 2006